Our favorite blonde realtors are back on Netflix for Season 2 of Selling Sunset. Last season, we watched as the realtors of the Oppenheim Group competed against each other to sell the most houses, and in so doing, accumulate the most commissions. 
Christine earns five to six-figure commissions on her most luxurious properties.
According to The Cinemaholic, Christine "only wants people to see her exactly how she wants to be seen" and holds a lot of personal information close to her chest. That's part of why her exact net worth isn't publicly known, but the outlet was able to do some of the heavy digging.
"Our estimates suggest that Christine Quinn's net worth as of 2020 could be close to $2 million," they write, adding that she makes five to six-figure commissions for the luxury properties she sells in coveted areas like the Hollywood Hills or Sunset Strip.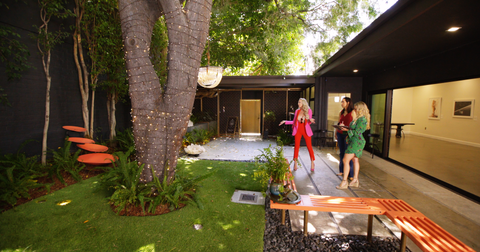 But merging her finances with new husband Christian is definitely affording Christine the finer things in life. In a separate article, The Cinemaholic writes that Christian bought Christine "her dream $5 million home for them to live in and start building a life together."
While Christian himself is retired, he seems to have amassed quite a fortune while working in tech — and now has a private jet, on which he travels with Christine, and a net worth of close to $20 million, "even by the most conservative estimates." Wow!
In an interview with People, where we got to see Christine's fabulous secret wedding (to which she wore a gorgeous black gown), which featured a pair of black swans and even a bleeding cake, the bride said the couple is "so similar in all the ways that matter." 
"We are both creative, driven, entrepreneurial, and have always lived by our own rules."
We love it! Here's to the newlyweds!
Season 2 of Selling Sunset is now streaming on Netflix.
Source link